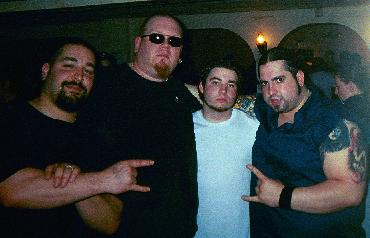 Joe Altier, Me, Mike Rafferty, & Slider
Brand New Sin ROCKS!!!

BRAND NEW SIN's self-titled debut is now the #1 Metal Album in the country. According to the ALBUM NETWORK's AGRRO Metal chart!

They are from our hometown of Syracuse,NY and play some kick-ass tunes. I have known these guys for a long time. My band played several shows with them back when the guys were still in Godbelow.

They have toured with MOTORHEAD, Fu-Manchu, and Zakk Wylde's Black Label Society, performed at this year's Sturgis Motorcycle Rally in South Dakota, and had a song on ESPN's coverage of the Stanley Cup's best hits. Not bad for a bunch of boys from the 'Cuse!!!

Considering the fact that they are from Syracuse, there's nowhere to go but UP!