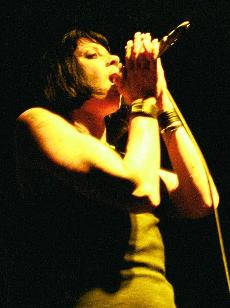 The story of Bif Naked is not your average Rock & Roll tale... It has more twists and turns than a Guy Richie movie.
She was born in New Delhi, India to two boarding school teenagers and adopted by a pair of American missionaries and moved to Minneapolis.
Eventually they moved to Canada. She attended college until hooking up with several garage-punk outfits that toured Canada and the west coast of the US. She then dropped out of college to devote herself to music full time.
Her first albums did very well in Canada and she was able to tour the world. When she is not performing her music, she loves to spend time with her two dogs. She also does martial arts, snowboards, and does modeling for some of the largest agencies in the business.
She is as friendly and polite as she beautiful. She has a great sense of humor and was a blast to hang out with. She is a supporter of being straightedge and does not smoke, drink or do drugs. She also does not eat meat.
Her newest album Purge was recently released in the US on Her Royal Majesty's Records after an extended wait and she is touring in support of it. One of the tracks from the album titled "I Love Myself Today" was used by American car company General Motors for their national advertising campaign.
The performance at the Bridge Street Music Hall was the opening night of her US tour. The crowd that came out was treated to a wonderful performance. She jumps around dancing and gives it her all.
The excitement and energy put out by Bif and her band make it no mystery why the people of Canada love her so much.
I sat down with Bif Naked before the show and we talked about the band, touring, her dogs and more. It was a pleasure to meet her.