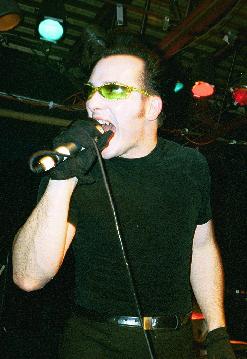 David Vanian of The Damned.
In January of 1976, The Damned played their first show with none other than the Legendary Sex Pistols. Now more than 25 years later, John Lydon (Rotten) has said that the show in Cali would be the Pistols' last performance ever, and The Damned is still on tour with a great new album. They are one of the greatest punk bands of all time. Having seen them twice in about a month really drove that point home for me. The Inland Invasion 2 show in California with the Sex Pistols was awesome, but the intimate feel of the small club known as Valentine's in Albany, NY was far better.
In complete contrast to the West Coast show, where the band played in the late afternoon sun in front of 65,000+ people in the largest concert venue on earth, the tiny darkened bar packed with about 350 people let you get up close and personal with the band as they ripped through their set. And rip through it they did!
The crowd sang along with such favorites as "Smash It Up" and "Suicide", and got several circle pits going that were great. (Personally, I am a fan of West Coast-style circle pits as they are usually a lot less violent and a lot more fun than the all out war of East Coast-style pits. You are going to the show to have a good time, not get a trip to the ER!)
The band played many songs off their newest CD "Grave Disorder" (Nitro Records) and they were recieved as with the same enthusiasm as the old material. I snatched the set list at the end of the show, but a fat lot of good it did me as the band barely followed it at all, instead they played what they felt like playing and it turned out better.
During their long existence the band has changed personnel many times. The Damned currently consists of David Vanian (Vox), Captain Sensible (Guitar), Patricia Morrison (Bass), Pinch (Drums), and Monty Oxy Moron (Keyboards).
Earlier in the day I got to do an interview with the Damned's guitar player: Captain Sensible. He was a great sport even if we did stump him with our stupid bonus question...LOL. He signed a bunch of stuff for us and we had quite a few laughs.