The Official Website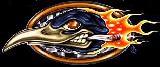 The Black Crowes



The Haunt - Ithaca, NY
Rich Robinson, guitarist of The Black Crowes, has a new band called HOOKA BROWN which was formed after parting parting ways with the Crowes in 2002. The rest of the band consists of John Hogg (vocals), Bill Dobrow (drums), and Fionn O'Lochlainn (bass).
Robinson met Hogg, formerly of the British band MOKE, when they opened for the Crowes on various tour dates.
Hooka Brown is without a doubt going to be compared to The Black Crowes and with good reason, considering the fact that Rich Robinson was one half of the Crowes main writing team. His "Early Stones" guitar style alone is enough to remind many listeners of his previous band. And if that weren't enough, singer John Hogg's powerful and moving vocals are a spot-on match for Rich's brother Chris Robinson. That fact was made quite evident on the two Crowes covers: "Sometimes Salvation" and "Wiser Time", which were both penned by Rich. The band also covered "Bad n' Ruin" from The Faces.
Later that night my friend Jeff, whom I had gone to the show with, commented that if he was blind and you told him that he was at a Black Crowes show; he would have believed it. I would tend to agree with him. But don't take that to mean anything bad.
I love the music of The Black Crowes and I like what Rich Robinson is doing with this new project. It is still genuine Rock & Roll with a very bluesy influence. It is still the kind of quality music you would expect from a songwriter of Robinson's caliber.
The hooks are there and so is the talent. The rhythm section of Dobrow and O'Lochlainn lay down a solid foundation for the performances of Robinson and Hogg.
From the opening notes of "Omission" to the closing song "Cut The World" and throughout their four song encore, HOOKA BROWN delivers the goods.
They are very much worth catching live, so if you get the chance: do it. See them soon before it gets so crowded they won't be able to play such intimate venues.
They will be releasing their studio album soon...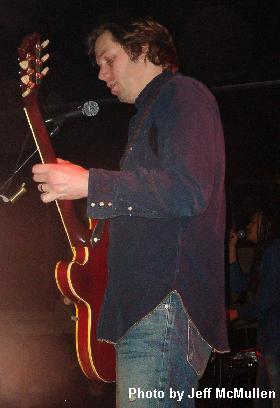 Rich Robinson on Guitar.