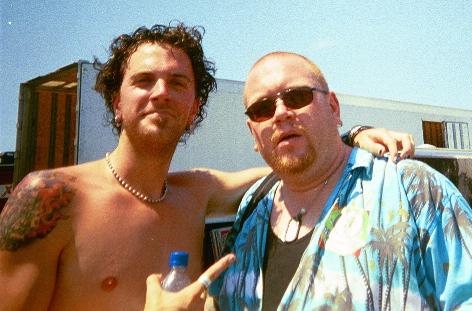 J. Lynn Johnson of Mad At Gravity
Mad at Gravity rocked the Locobazooka tour this summer in support of their freshman release entitled "Resonance" (ArtistDirect Records)
Hailing from Orange County in California, they have been together for about a year, but don't let that fool you. These guys are great musicians. The catchy (and dare I say it: "radio-friendly") hooks reel you in like a game fish.
The singer writes lyrics that are both private and universal and the instrumentation is amazing and multifaceted, particularly when it comes to guitar and bass change-ups. The levels of musicianship and songwriting skill go a long way in setting Mad At Gravity apart from other bands of the "Modern Rock" genre.
And also to the band's credit, their songs "Burn" and "Walk Away" appear on the soundtrack to the movie Reign of Fire.
After their set, I caught up with vocalist J. Lynn Johnston for a few minutes. He was very friendly and we spoke at some length about music and what was up with the band. He was still not used to playing in front of such large crowds, and was blown away by the size of the crowd at the Oswego Speedway.
My opinion was that he should get used to it, because if they keep making music as good as the songs on "Resonance" the crowds will keep coming. The band will have a chance to get used to it a little more because Mad At Gravity will be on the road with Creed for several dates after the Locobazooka tour ends. If you get the chance, check them out. They are a band to keep your eye on, and are definitely worth the money.