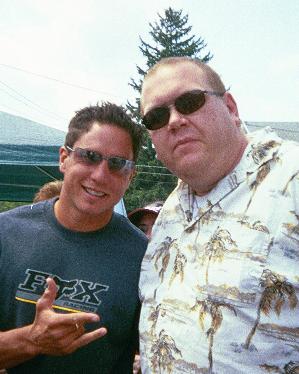 The history of bicycles is very fuzzy.
Sources often disagree as to the names of the inventors and the dates of their inventions. One "old school" French model was even referred to as a "boneshaker." But no matter who invented it or what you call it, Dave Mirra is the man who perfected the art of riding one.
Dave Mirra's history is not fuzzy.
He is originally from Chittenango, NY, which is located just east of Syracuse. As a major participant in the X Games, he has won more Gold medals than any other X Games competitor and is one of the most recognized professional athletes among today's youth.
Dave is known to his fans as the "Miracle Man", and with good reason: He seems to possess the power to defy gravity at will. The Miracle Man recently pulled off the first-ever double back-flip in competition, proving that his nickname is well deserved.
He is the star of three popular video games and has his own action figures (toy), trading cards, signature bike and shoe.
He's even been on Late Night with David Letterman.
When Dave is in the Syracuse area visiting friends and family, (His cousin Jamie Mirra rides with the R.I.D.E. Freestyle Team), he often drops in at the Blue Tusk. It's always fun when he stops in and I always tell him great jokes. For a guy that is always getting amazing altitude, he is a really down-to-earth guy with a great sense of humor.
Dave & Me at Oz Fest in Chittenango, NY