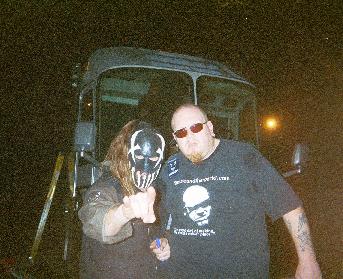 Me With Gravy of Mushroomhead
I found out about this band from my friend Randy. He asked me if he could be the camera guy if these guys came around and sure enough, just a few days after he asked, they booked a show in the 'Cuse.
He let me borrow their disc to check them out and it did not leave my CD player until the day of the show. Awesome! The show was incredible!
The strobe lights created an atmosphere that made you want to enact the "Fight or Flight" response and set you on edge. This nervousness really helps to put you in the mood for this band. Once you are in the heightened state of alertness you easily fall into the musical trap set by this band.
The blend of metal/rap/spookygothic/industrial-noize is reminiscent of White Zombie mixed with Fear Factory with a touch of Type-O Negative and Korn thrown in for good measure, but ends up sounding nothing like any of the aforementioned bands.
As for the bands appearance, with eight guys in masks, make-up, and matching uniforms, comparisons to Slipknot are unavoidable. This causes a lot of controversy and animosity between fans of both bands and even between the bands themselves. But, it is a fact that Mushroomhead were around first. Slipknot just got signed first. All the arguing aside, I like both bands, but I am definitely more of a Mushroomhead fan.
The fact that they get their ideas across without having to resort to using gratuitous obscenity sets them apart from the other bands of the Nu-Metal genre.
With cool slots on the Locobazooka Tour and The Ozz Fest coming up this summer, Mushroomhead is destined to become a household name. The band will also be playing in Oswego, NY at Oswego Speedway on July 14, as part of the WKRL (FM 100.9) K-Rock-A-Thon. I'll see you there and I'll wave at all of you from the stage.