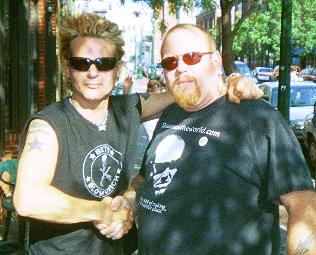 Me with Rikki Rocket of Poison.
This one is gonna get me into trouble and I might lose all my Punk rock credibility, but what the Hell!
I go down to the Blue Tusk to meet friends to go to the TOOL show and find out that the guys from Poison are walking around in the Armory Square. Not one to miss a photo opportunity, I approached Rikki Rocket, introduced myself, and asked to get a photo. He was nice enough to say "yes" and then asked me a good place to drink in Syracuse...(Hello!)
So, I told him that I was the bouncer for the Drinking-est Bar in town: The Blue Tusk, and told him to stop by later that evening. Sure enough, C.C. DeVille & Co. stopped by that night.
Being that it was my night off and I was just coming from one of the coolest shows I had ever seen, I was off on a "combustible refreshment" walk with a friend and was not there when the guys arrived. But, I found out that it blew a lot of people's (including my other bouncers') minds when they showed up at the door and the first thing they did was ask for me! WAY TOO FUNNY!!!
C. C. DeVille was having some food in the middle of a huge crowd of people. One guy kept messing with him and I actually had to rough him up and throw him out of the bar before C.C.'s gigantic seven foot tall bodygaurd killed him. The bodygaurd complemented me on my performance.
Then C.C. asked me where to go to find live music because he wanted to play some tunes. I sent him to the Dinosaur BBQ accompanied by our Cafe DeMon bartender: Shane O'Neill of Belfast, Ireland. C.C. DeVille is his biggest hero!!! They had a great time.