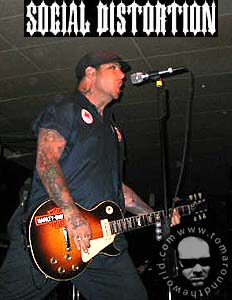 When the group finally recorded its debut album, Mommy's Little Monster in 1983, the band consisted of Ness, Danell (now on guitar), bassist Brent Liles, and drummer Derek O'Brien. Their music was often described as a punk version of the Rolling Stones, and "Another State of Mind" was one of the few punk videos to air on MTV in 1984. However, the band took four years to record a follow-up, as Ness descended into heroin addiction and self-consciously rebellious behavior. Liles and O'Brien left, and Ness, after straightening himself out, finally regrouped in 1988 with John Maurer on bass and Chris Reece on drums. This lineup recorded Prison Bound, a mature album broadening Social Distortion's roots rock influences with a country feel. Their self-titled 1990 effort included a cover of Johnny Cash's "Ring of Fire" and returned the group to MTV via "Ball and Chain." Somewhere Between Heaven and Hell became their most popular album to date, producing a minor radio hit in "Bad Luck" and keeping with their now-established blend of punk, blues, country, and rockabilly.
Social Distortion took an extended hiatus following the release of Somewhere Between Heaven and Hell, returning in 1996 with White Light, White Heat, White Trash, which proved to be a moderate hit on MTV and modern-rock radio; former Black Flag and D.O.A. drummer Chuck Biscuits made his debut on the album, following the departure of Reece. Live at the Roxy followed in 1998, and a year later Ness issued a pair of solo albums, Cheating at Solitaire and the covers collection Under the Influences.
Dennis Danell died February 29, 2000 of an apparent brain aneurysm; a tragedy which devestated Mike Ness. The guitarist was just 38-years-old.