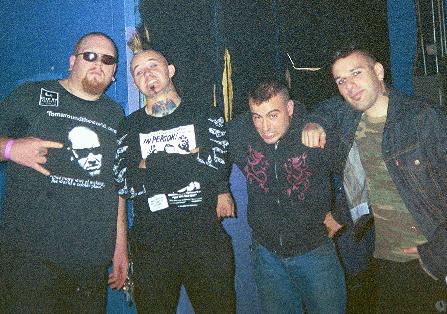 Me, Geoff Kresge, Fred Hell, & Nick 13
Formed at the end of 1995, TIGER ARMY played their first gig in March of the following year at the now-legendary 924 Gilman Street in Berkeley with AFI. The band began to play live as much as possible, quickly establishing a reputation for incendiary live sets while playing with such renowned bands as Social Distortion, X, the Polecats, T.S.O.L., Nekromantix, AFI, Sick of It All, Rev. Horton Heat, the Dropkick Murphy's, and the Amazing Crowns.
Tiger Army recently played at Valentine's in Albany in support of their sophomore release: Power of Moonlite. The band delivers 13 all-new tracks of dark, aggressive American Psychobilly -- where a rumbling stand-up bass crashes head-on into haunting melody in an explosion of nocturnal power.
Power of Moonlite has different hues like the night sky -- from the Goth-tinged aggression of "When Night Comes Down" to the brooding country ballad "In the Orchard," the hybrid sound the band has created is so infectious that it's been simultaneously embraced by both diehard psychobilly fanatics and those who've never even heard of the style.
The large and diverse following that has gathered around the band includes psychos, punks, greasers, skins, hardcore kids, Goths and other nonconformists -- their collective loyalty has enabled the band to headline their own sold-out shows. As the band says, anyone who relates to, or appreciates, their music is part of the TIGER ARMY.