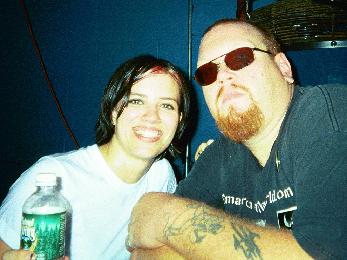 Agent M with Tom
Tsunami Bomb opened The Damned show at Valentine's in Albany. They are touring in support of their new CD entitled "The Ultimate Escape" on Kung Fu Records.
Tsunami Bomb formed in the late 90's in Petaluma, California; a sleepy Northern California bay area suburb and home to some of the greatest punk bands in history.
The band got where they are by sheer hard work, both on the road and in the studio. The band has toured with The Vandals, The Ataris, Avenged Sevenfold, The Damned, Rufio, H2O, and on the 2002 Warped Tour just to name a few. It was that incessant touring that led to a wild-yet-polished live show that is worth checking out!
Singer Agent M is a complete package, possessing a rare combination of sweetness, beauty, talent, and power. This young lady knows how to get down and work a crowd. And the band knows how to make them jump!