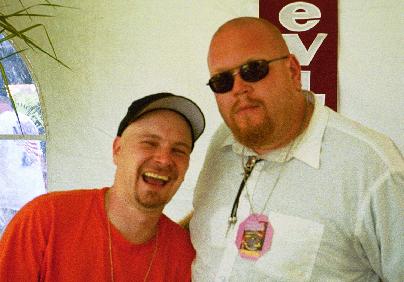 Warren Fitzgerald with Tom @ Inland Invasion II.
What can I say, the guys in the Vandals do it all.
Joe Escalante is an attorney, a Bullfighter, and owns Kung-Fu Records and Films.
Warren Fitzgerald is a record producer and artist with a penchant for getting naked.
Josh Freese has done work with Tracy Bonham, Meredith Brooks, & A Perfect Circle.
And David Quackenbush has received "#1 Lover" underpants from his ex-girlfriend.
On top of all that, the band had a contest to win dates with the band members as part of the promotion for their newest album: Internet Dating Super Studs. With so much going on, it is hard to figure out where they find time to do rock and roll. But they do. And they do it very well.
I caught the Vandals as part of the Inland Invasion 2 show. They were the Headline Band on the Second Stage and they ROCKED. The crowd went wild!
Earlier in the day I got to interview Warren Fitzgerald. Warren liked to talk and because of it I got one of my best interviews ever. It was a pleasure to talk with him. He went off on all kinds of topics. He just wouldn't shut up!!! It was great!
The whole time we were doing the interview he was really frenetic and jumpy. It almost seemed unnatural. Finally the tour manager had to drag him away, a bummer due to the fact that he was so fun to chill with. (Click Here for Interview.)<--Coming Soon.