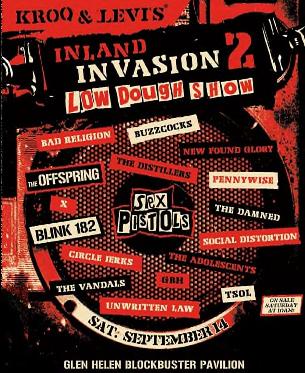 I recently attended one of the greatest punk line-ups in Rock & Roll History: the Inland Invasion 2 concert.
It took place at the Blockbuster Pavilion in Los Angeles on September 14. The event is an annual show sponsored by KROQ & Levi's. But this year's concert was a once in a lifetime Punk Rock Dream Show that featured some of the best bands of the 25-year history of the Punk genre.
There were bands from England and Southern California, but were no bands from the New York scene at this show. I found that to be a bit odd as there is no denying the New York influence on Punk music. The show was dedicated to the spirit of Joey and DeeDee Ramone, but there still should have been some bands to represent the East Coast.
The Bands included the Sex Pistols, Bad Religion, Social Distortion, the Damned, X, the Offspring, Buzzcocks, Circle Jerks, G.B.H., True Sounds of Liberty (TSOL), the Vandals, the Distillers, Unwritten Law, New Found Glory, Blink-182, Pennywise, and the Adolescents.
It was rumored that it would be the final performance of the Sex Pistols. Time will tell on that...we've all heard shit like that before. (The Who, Ozzy, etc.)
There were seven of us on three planes representing for the Syracuse scene. I went with Emo the Anti-Diva, and Artists: Joey Larkin and Christophe Ennis on one plane. Jeremy Mercier-Harrison was on another. Jamie Coville (formerly of the band Libertine) and his friend Mark Bellrose were on the third plane.
For Joey, the whole thing was a giant SURPRISE! Christophe set him up with a ticket to the show and one for the airplane.
Christophe finished work around midnight and brought Joey Larkin down to the Blue Tusk to meet up with me.
The entire city of Syracuse knew that Larkin was going and everyone did a great job of not tipping him off. (Thanks guys.) They even played the Sex Pistols at the Blue Tusk (Shocking!) for us before we left for the airport and he still had no clue. Continued...