The Sex Pistols
The Most Important Band On Earth!
The Set List: Bodies / Seventeen / New York / No Feelings / Did You No Wrong / God Save The Queen / Liar / Belsen Was A Gas / No Fun / Submission / Holidays In The Sun / Pretty Vacant / E.M.I.
Encore: Anarchy In The U.K. / Problems.
Johnny took the stage, and informed the audience, "Because of immigration, we couldn't rehearse, so like us or die."
The band looked great. The sound was great! The stage was stark and Spartan. They had less equipment than the average club band, but their sound and energy was that of a band with a ton of stage gear. John stalked the stage like a hungry lion, alternating between anger and comedic brilliance with his slams.
Glen looked quite well, Steve looked solid although he kept his back to the audience for most of the night, and Paul was in fine form. They ripped through the set with a few mistakes where Johnny screwed up the lyrics to a couple of songs, and then Steve would look over at him, and Johnny would listen to the crowd to try to find his place.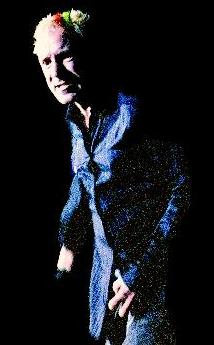 John @ Inland Invasion 9-14-02