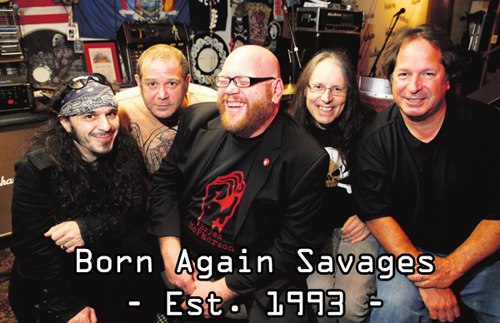 L-R: Zadoc Angell, I.M. illiin', Tom "the Sarge", John Thomas, Rev. Joe DiRienzo
The Sound of The American Dream Being Utterly Blown to Bits.
A five-piece band based in Syracuse, NY with screaming guitars, brutal drums, heavy bass, and a crazed lead vocalist; the band's creedo is "Louder is Better!"
It is tempting to lump this group on the trashheap of shock-schlock, but the Savages' songs are simply better. Their twisted, often disturbing lyrics are served up with a side of Humor Noir that sets them apart from other nihilistic bands of the Punk genre.
* Minister of Propaganda: Tom "The Sarge" Carpenter's lyrics and delivery are filled with passion - bent and twisted passion, but real passion nonetheless. His scathing social commentary, and imposing stage presence make him the perfect frontman for the Savage's sonic whirlpool.
When not performing with the Savages, Tom spends his time interviewing some of the world's biggest & best musicians on his website: www.TomAroundTheWorld.com
* Rev. Joe DiRienzo is one of the best guitarists in Syracuse, equally capable of playing a simple, fat fill or creating an electric hailstorm. More importantly, he knows when to use them. DiRienzo's mix of abstract expressionism and futurism allows The Sarge plenty of sonic space to vent while still providing leads that rival The Stooges in intensity.
* Bassist John Thomas and drummer I. M. illin' provide the heavy foundation that supports the musings of The Sarge and DiRienzo. They are also the rythm section of the amazing Syracuse band: Undergang.
* Guitarist Zadoc Angell adds what is the audio equivalent of brass knuckles to the Savages' brutal sonic punch! Though relatively new to the Savages line-up, Zadoc has spent most of the last 20 years fronting Zadoc & The Nightmare and Zadoc's Eternal Circus, as well as playing in Undergang, & alist of other projects.